Health & Nutritional Products - Fortified with Velvet Elk Antler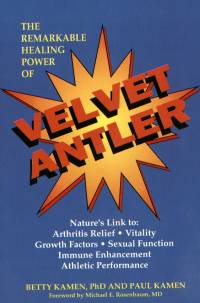 LifeQuest Nutrients - The Standard in Velvet Antler


I became aware of vekvet antler several years ago while browsing in a Chinese herbal shop in San Francisco. The product was marketed both by itself and in combination with ginseng. Somehow I felt an aura of mystery about powdered antlers sold in an obscure shop in Chinatown. Although skeptical when the proprietor said that velvet antler is very healing and that it would give me strength and energy. I felt compelled to buy some.

Indeed, a brief trial of velvet antler capsules proved his point. In just a few days I experienced a noticeable boost in my sense of well being. This made me wonder why velvet antler was not being sold in health food stores or discussed in nutrition magazines. After all (as I subsequently learned), it is regarded in China as a precious healing substance and revered to the same degree as ginseng and perhaps Reishii mushroom.

Well, all that is about to change. I now know that velvet antler contains a veritable arsenal of nutritional weapons against diseases associated wth aging. At last, velvet antler is beginning to receive the prominence and attention it deserves in the western world. In fact, it is poised to become one of the most exciting whole-food nutrition supplements of the new millennium.

The Remarkable Healing Power of Velvet Antler by Betty Kamen, PhD and Paul Kamen


Click Here to Visit: